What's the worst part of the workout experience? Could it be the aches and pains after every lifting session? Or maybe it's getting up before sunrise for a pre-work yoga flow? For those of us in our part of the world, it might be more simple than that: sweat.
If you live in Hong Kong or any other part of Southeast Asia, you are no stranger to perspiration. You might be sweating right now as you're reading this! But what is most certain is that if you live, work, and work out in this part of the world, sweat is just a part of life. And it can be a problem. No one wants to be the person in the room who looks like they just fell in a pool. Luckily, a simple solution is right in your closet. 
Let's look at different types of workout clothing that are best for all those humid workouts!
Activewear Fabric Option One: Cotton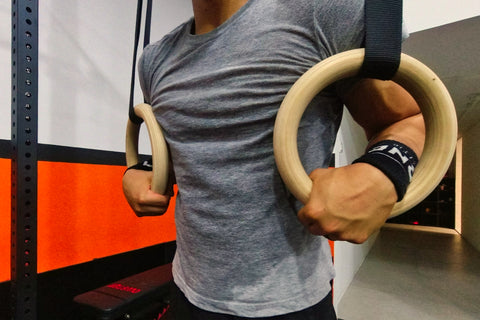 Of all fabrics, cotton is classic. If I asked you to pick your top three articles of clothing right now, I guarantee at least one would be cotton. So how does it match up in the gym?
THE GOOD
The most obvious reason that cotton is great for any workout is that it's comfortable. It's why every breezy t-shirt and even your bed sheets are made of the stuff. Clothing made of 100% cotton is forgiving in tight and loose fits and simply enjoyable all day.
Cotton is also a popular option for the weight room. As a simple and widely-used fabric, it's available in any size, cut, and color you can imagine. You can truly wear your personality on your sleeve!
THE BAD
While cotton clothing is great at first, the last thing you want to do is sweat in it because it never leaves. As a hydrophilic substance, cotton just loves to soak up liquids. And 30 minutes into a Bikram yoga session, your once-comfy clothes turn more into towels.
With all that sweat soaked into your cotton gym clothes, you're also going to run into serious performance issues. First, you're dealing with heavier, stretched out, and no-longer-breathable fabric, making movements like running, lunging, and squatting much less comfortable. Second, the wet fabric itself can start to cause irritation and rashes if you're not careful. 
Activewear Fabric Option Two: Synthetics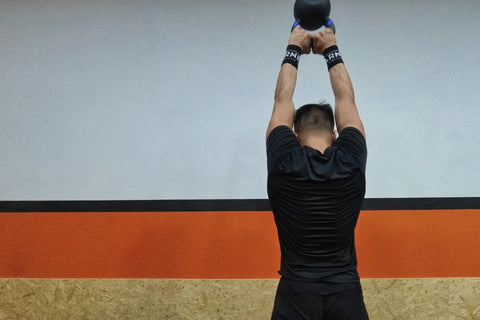 Just the way that sports have evolved through every generation, so has sportswear. And while there's still always a place for your favorite cotton gym shirt, it's hard to deny the effectiveness of synthetic fabrics. From polyester to spandex, and even the addition of new weaving technologies, gym clothes have seen a huge performance boost with science.
THE GOOD
Because sportswear fabric was designed specifically for working out, everything about it was made to offer the optimal experience. For the issue of sweat, every sports brand has its own moisture-wicking apparel, using hydrophobic cloth that repels liquid. This means clothing that dries fast and keeps you cool.
With activewear also explicitly made for every activity, another advantage is that you can find the right outfit for your particular sport. Nowadays, weekend yoga warriors can find stretchy, close-fitting outfits to look great in any asana.
THE BAD
Have you ever forgotten your synthetic gym clothes in your bag, or opened your clothes bin the following morning? Unfortunately, the reason synthetic fabrics work so well in a sweaty workout is the same reason they can smell so...sporty. They might repel liquid, but they have a terrible habit of retaining and attracting your body's natural bacteria. In fact, it usually takes special detergents and laundry habits to prevent this gym gear stink.
Activewear Fabric Option Three: Blends
Sometimes the go-to answer for every problem is to take different solutions and blend them together. Well, that's EXACTLY what gym apparel brands have done. Cotton and synthetic? How about blend fabrics.
From dedicated team uniforms to everyday athleisure, blended fabrics take the comfort of cotton and moisture-wicking science of synthetics and dialed in the perfect mix. You can see this yourself in any piece of great workout clothing. Take a look under the shirt, find the tab, and you're sure to find some percentage of cotton, polyester, elastane, even bamboo.
But here's the catch: with endless possibilities for great workout gear, not all blends are created equal. With so many brands out there, you could find different fabric choices and blend percentages. And since everybody and every body is unique, what works for me might not work out for you.
What's the Best Workout Fabric for Me?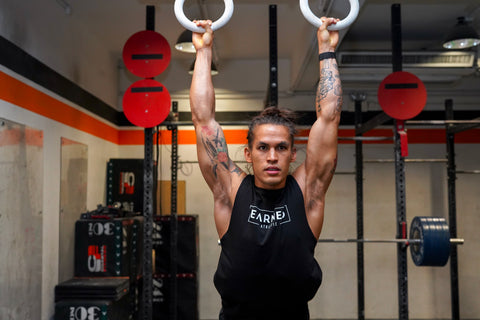 Between all cotton, all synthetic, or something in between the two, there's definitely no lack of choice when it comes to beating the heat and dealing with sweat. Anyone can find activewear that lets us move well, look good, and feel great. But the only way to really find the right piece of clothing is to see for yourself. 
The best part about sports and an active lifestyle is that you can experiment with your abilities, improve, and become better every day. And this is a great way to approach your search for workout clothing. Try loose or form-fitting, tank top or t-shirt, dark and light colors. When you hit the gym, note how comfortable you feel and how well the fabric moves with you. Switch shirts halfway through a session and take notes. Just like any workout, be an active participant and learn everything you can about your workout clothes!
What about Earned Athletic?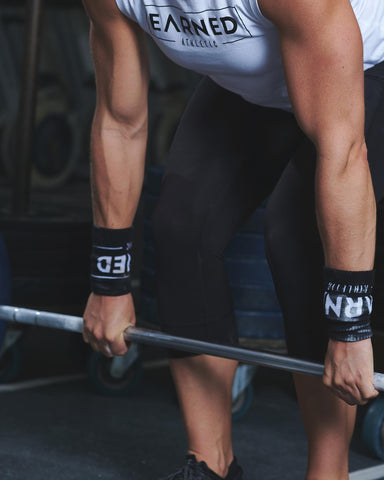 Of course, you can take it or leave it, but at Earned Athletic, we've done our homework. We've tested every fabric and blend under the sun. We've pushed ourselves to our limits in the gym to see how well our clothes rise to the challenge. And after endless hours of testing and batches of samples, we present a shirt that represents everything you need in workout clothing:
The Earned Athletic Performance Tee.
With so many activewear options available, choosing the right one can be overwhelming. But that's also the best part. Give them all a try, test what you feel and look best in, and see what holds up to your training demands. Above all, get sweaty!